Historical Perspectives On Contemporary Issues
Christopher Jones — Routes of Power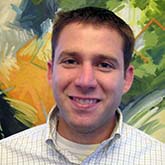 Closed-captioning available on Youtube. 
In Routes of Power, Christopher Jones describes how the American energy industry grew into a vast network of canals, pipelines, and wires - fueling growth and consumption and leading to environmental problems associated with fossil fuels. What lessons might this earlier transition have for building a sustainable energy infrastructure now?
To bring diverse perspectives to the issues that Routes of Power raises, the Consortium invited several people to ask Chris some questions about his work. Listen to the podcast here, learn more by clicking on the link to further resources, and add your own questions or ideas through the discussion forum.
Christopher Jones is Assistant Professor of History in the School of Historical, Philosophical, and Religious Studies at Arizona State University.
Routes of Power: Energy and Modern America (Harvard University Press, 2014)
Podcast music: "Kitty O'Neil Medley of Reels" performed by Charles D'Almaine (1912), courtesy University of California, Santa Barbara Library.
To cite this podcast, please use footnote:
Christopher Jones, interview, Perspectives, Consortium for History of Science, Technology and Medicine, March 15, 2019, https://www.chstm.org/video/64. 
---
Post Your Comments and Questions
Insights from the Collections
The Consortium's collections provide many opportunities to learn more about the history of energy and the environment. 
 
Our cross-institutional search tool allows researchers to investigate materials across multiple institutions from a single interface. With more than 4.4 million catalog records of rare books and manuscripts, the Consortium's search hub offers scholars and the public the ability to identify and locate relevant materials.
 
Search the Consortium search hub.
 
Some archival materials related to this topic include:
 
American Petroleum Institute Photograph and Film Collection, Smithsonian Institution
American Society of Civil Engineers Collections, Linda Hall Library
Anthony F. C. Wallace Papers, American Philosphical Society
Ephraim C. Dawes Papers, Newberry Library
Petroleum Monthly Collection, Library Company of Philadelphia
Rockefeller Business Records, Rockefeller Archive Center
Westmoreland Coal Company Records, Hagley Museum and Library
Map of the coal fields of Pennsylvania, Columbia University
Shawmut, Pa. Coal Land Records, Harvard University
Alberhill Coal and Clay Company Records, Huntington Library
 
See also recent work from our fellows:
 
Damon Yarnell, Motor City: Ford, Mass Production and the Industrial Ecology of Detroit, 1908-1927
Jeffrey Brideau, A Bond Rather than a Barrier: Constructing the St. Lawrence Seaway, an Environmental History