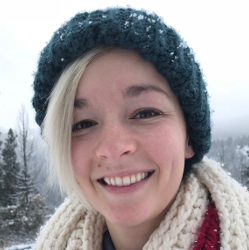 Chelsea Chamberlain is a 2018-2019 Research Fellow and Ph.D. Candidate at the University of Pennsylvania.
In the late nineteenth- and early twentieth-century United States, psycho-medical experts and lawmakers established a growing network of diagnostic clinics that aimed to sort America's children into the normal, curably abnormal, and incurably "defective." Clinics in public schools, institutions, municipal courts, and universities pursued a "sifting out" that would "clear the way for twentieth century progress" by placing those deemed incurable in institutions for the feeble-minded.[1] Most superintendents and other diagnostic experts believed ridding the nation of the feebleminded "menace" justified state-mandated institutionalization.[2] Scholars have detailed the ways that such experts used state power to institutionalize against their will poor, immigrant women deemed sexually immoral.[3] Yet many of the residents of these institutions were admitted as children or adolescents at the behest of their families, not by compulsory commitment.
My dissertation, "Hope and Human Defect in Progressive America," explores the non-eugenic purposes and expectations with which families engaged eugenic institutions between 1880 and 1920. Families with children deemed feebleminded strategically subjected themselves to clinics and institutions to meet wide-ranging emotional, medical, and material needs. Consent and coercion blurred when disabled people and their families sought care they believed could not be obtained elsewhere. By demonstrating how families participated in and challenged processes of diagnosis and institutionalization, my dissertation sheds light on the tense relationship between progressivism's grand vision for society and everyday people's hopes for themselves and their children. As families and institutional residents grappled with experts, I argue, they transformed the bounds of medical and legal possibility in Progressive Era struggles over the definition of childhood, the role of education, and the requirements of citizenship.
As a 2018-2019 research fellow for the CHSTM, I conducted research at the College of Physicians of Philadelphia, American Philosophical Society, University of Toronto, Cold Spring Harbor Laboratory, and Rockefeller Archive Center. Together, these archives helped me place my primary case study, the Pennsylvania Training School for Feeble-Minded Children at Elwyn, into a much broader context that includes additional institutions for the feebleminded, child guidance clinics, popular literature, and varied groups dedicated to studying feeblemindedness. This research also made it possible to consider families' fraught relationships with institutional care alongside the ways that experts relied on those families for the data that fueled and at times frustrated their eugenic ideologies and policies.
At the College of Physicians of Philadelphia, Beth Lander worked with me to identify a wide range of ephemera and advertisements from area institutions for the feeble-minded, as well as reports from Philadelphia investigatory committees. Most exciting was the collection from the Elm Hill Private Institution for Feeble-Minded Youth, which contains correspondence, student and teacher diaries, and other record books that give a detailed look at on-the-ground life in a small private institution in Massachusetts.
These records show that seeking institutional care could be a difficult decision for families to live with. In the 1890s, one mother lamented to the superintendent of Elm Hill that she keenly felt her recently-institutionalized daughter's absence. She had been her daughter's full-time nurse until she felt the task became too demanding for either her or a trained nurse to handle. She had then turned to Elm Hill as her "little girls future home." The absence of their busy daughter, whose "feet were tramping all over the house constantly" left the home "so orderly and quiet, it is quite painful."[4] In Elm Hill, this mother saw the chance for an alternative family life for a daughter who she was no longer able or willing to accommodate within her own. Other families often sought institutional care as a form of boarding school. There, they hoped short-term training would cure their young relative, or at least equip them with habits of cleanliness and work that would enable them to rejoin their home as economic contributors.[5]
The University of Toronto and Cold Spring Harbor hold sex, marriage, and parenting guidebooks written from a eugenic perspective. Together, these books demonstrate the many opportunities parents had to encounter ideas that encouraged them to send their children away for life. My dissertation shows that even at the height of these efforts, many families, especially those in a position to seek private institutional care, were guided instead by their intimate experiences of impairment.
The Eugenics Record Office (ERO) papers and publications held at the American Philosophical Society and Cold Spring Harbor Laboratory make clear that psycho-medical experts simultaneously relied on and distrusted the narratives that families told about themselves and their children's non-normative behaviors. The eugenic field workers who the ERO trained and sent out embodied this tension. Field workers acquired family narratives through in-person visits, then attempted to undermine them according the lessons of Cold Spring Harbor and their own notions of the inheritance and manifestation of human defect. The result, in ERO records and the wide-ranging publications that relied upon them, is a blended narrative that is both rooted in and derides how families understood impairment.
The Rockefeller Archive Center's records reflect psycho-medical professionals' broad shift away from feeblemindedness and mass institutionalization in the 1920s. Sociologist Dorothy Thomas explained this change in a report featured in the New York Psychopathic Laboratory's papers and later in a book co-published with her husband.[6] When intelligence testing during World War I demonstrated that intelligence was likely not the decisive factor in crime as many experts had asserted, they turned their attention instead toward emotional and social adjustment. In child guidance clinics, visiting teacher initiatives, and other programs, these experts focused on malleable children rather than the incurable "defectives" that had so absorbed their attention in previous decades.[7]
Throughout my time as a fellow, it was a joy to build new relationships with librarians and archivists whose knowledge of their collections made research both straightforward and exciting. Research at Consortium archives has added new breadth and clarity to my project. Accessing a wide range of sources allowed me to follow family-expert interactions out of the institution and into child guidance clinics, advice books, and the homes of families investigated by field workers and committees.
---