Historical Perspectives On Contemporary Issues
Laura Stark — Who Does the Work of Science? A Century of Science as Passion, Punishment, and Paycheck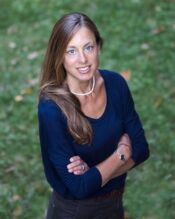 Laura Stark delivered the 2023 George Sarton Memorial Lecture
The COVID-19 pandemic laid bare society's reliance on dense layers of workers—in science and service industries alike. It also exposed economic and racial injustices in the mismatch between workers' necessity and their compensation, safety, and job stability. Yet, over the past century, the political and economic structures that promoted and capitalized on the science workforce behind the headlines have changed dramatically. One place to track these changes is the US National Institutes of Health, focusing on the people who served as healthy human subjects of scientific experiments. At NIH's main campus in Bethesda, Maryland, thousands of Americans since the 1950s have been paid to live for days, months, or years as "normal control research subjects" in scientists' studies. In their free hours, the so-called Normals worked in unwaged "career assignments" as an informal science labor force of lab technicians, data collectors, care providers, and more. This unpaid work served a variety of shifting purposes for the Normals, the scientists, and NIH leadership. Told through more than 100 oral histories with former Normals and NIH scientists, this history exposes changes in economic and political structures of science and of American life in a global century. Often surprising, funny, and brave, these lives point with precision to inequities as well as to creative possibilities in the present day for science in the name of justice.
Laura Stark is a historical sociologist and Associate Professor at Vanderbilt University. She is the author of Behind Closed Doors: IRBs and the Making of Ethical Research (Chicago, 2012) and many award-winning articles on the history of modern science, social justice, and historical theory. Her second book, The Normals: A People's History (Chicago, under contract), explores how a global market for healthy civilian "human subjects" emerged in law, science, and everyday imagination over the past century. The Normals shows how logics of racialized citizenship were built into American clinical science in the post-World War II period—and how scientists and their human subjects worked for change. The book is based on an original archive Stark created with more than 100 normal control research subjects and the scientists who experimented with them from 1950 through the present day. The vernacular archive— which includes oral histories, candid photos, and personal letters—is now housed at the Countway Library for the History of Medicine. Between 2011 and 2020, Stark was Associate Editor of the journal History & Theory. In addition to her academic writing, Stark's science commentaries and book criticism have appeared in The Lancet, New England Journal of Medicine, Science, The New Republic, The LA Times, and other venues.
The George Sarton Memorial Lecture in the History and Philosophy of Science, named after a founding member of the History of Science Society, was first awarded in 1960. The lecture is given annually at the American Association for the Advancement of Science Annual Meeting by a distinguished practitioner in the history of science.
Recorded March 4, 2023.
Closed captioning available on YouTube.
---
Resources mentioned in this podcast:
 
Resources for more informatiom about Stark's research with the Normals:
The Vernacular Archive of Normal Volunteers citation: Stark, Laura Jeanine Morris, 1975-, 2019, "VANV individual collections, 1940-2018 (inclusive): Dataset", https://doi.org/10.7910/DVN/WFFS4W, Harvard Dataverse, V1
Stark, Laura. "Contracting Health: Procurement Contracts, Total Institutions, and Problem of Virtuous Suffering in Post-War Human Experiment." Social History of Medicine 31, no. 4 (2018): 818–46. https://doi.org/10.1093/shm/hky101.
Campbell, Nancy D., and Laura Stark. "Making up 'Vulnerable' People: Human Subjects and the Subjective Experience of Medical Experiment." Social History of Medicine 28, no. 4 (November 1, 2015): 825–48. https://doi.org/10.1093/shm/hkv031.
Stark, Laura, and Nancy D. Campbell. "Stowaways in the History of Science: The Case of Simian Virus 40 and Clinical Research on Federal Prisoners at the US National Institutes of Health, 1960." Studies in History and Philosophy of Biological and Biomedical Sciences 48 Pt B (December 2014): 218–30. https://doi.org/10.1016/j.shpsc.2014.07.011.
 
Insights from the Collections
The Consortium's collections provide many opportunities to learn more about the history of human experimentation and consent in the history of science and medicine.
Our cross-institutional search tool allows researchers to investigate materials across multiple institutions from a single interface. With more than 6 million catalog records of rare books and manuscripts, the Consortium's search hub offers scholars and the public the ability to identify and locate relevant materials.
 
Search the Consortium search hub.
 
Some archival materials related to this topic include:
Francis A. Countway Library of Medicine, Harvard University
Handbook on the normal volunteer patient program of the Clinical Center, Linda Hall Library
 
See also work from our fellows:
Paul Mitchell, Human Remainders: the Lost Century of the Samuel George Morton Collection
Bican Polat, Adjustment, Mental Hygiene, and Child Study: The Advent of the Personality and Culture Perspective in American Social Science
Joanna Radin, Life on Ice: Frozen Blood, Human History, and Biodiversity in a Genomic Age
 
Consortium workin groups related to this topic include:
Applied Medical History
Disability Studies and Mad Studies
Health and the Urban Environment
Objects, Images, and Spaces of Health